Summary
The coreDS™ FMI (Functional Mock-up Interface) is an application that turns a FMU (Functional Mock-up Unit) into a full featured HLA federate and/or DIS simulation. The good news is you don't need to be a programmer or a HLA/DIS Expert. No code is required!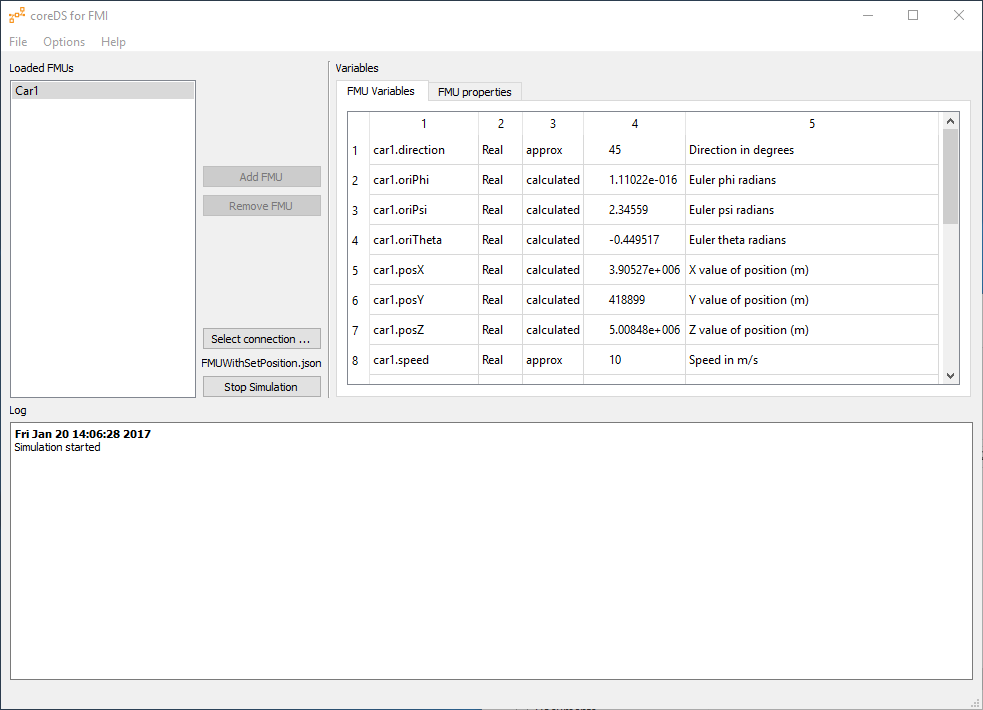 This comes with an impressive set of features and support all standards, all FOM modules and all RTIs. Automatic data encoding/decoding capability significantly reduce implementation time and allow the end user to work with high level data representation. Scripting functionality provides the flexibility needed by the end user to fully customize simulation behaviours.
The software provides all the configuration GUIs, data encoding, a scripting engine and rate limiting capability.
All your Inputs/Outputs defined in your FMU will be available in the Mapping window. This allows you to map your local FMU properties to HLA or DIS parameters. If you have data conversion to do, just use our built in LUA scripting engine.
Easy process: define your input-output object, variables and your messages - that's all.
Request a FREE trial
Free 14-day trial available! You can also register for a free 1-on-1 webcast.
Free trial
Ready to buy?
If you are ready to buy, click below.
Contact us
Main features
Cost effective solution using proven technologies: save time and money
Provides configuration GUIs
Switch configuration at runtime (from HLA to DIS, or to a new set of mapping, or FOM, or anything you can think of) - proper licensing required
lightweight scripting engine (LUA) to do on-the-fly data conversion, reply to messages or update objects
Data mapping at run time. Change your FOM file or PDU mapping on the fly
Automatic data encoding/decoding
Supports DIS 4-5-6 (with custom PDU support), HLA 1.3, 1516 and 1516e (FOM agile) - All RTI are supported, including OpenSource
No code generation
Don't re-invent the wheel, we took care of it.
Product one pager : OnePager_CoreDS_FMI
Professionnel
Configuration GUIs
1 year of technical support
1 year of free updates
Node locked licence
Developer
Configuration GUIs
1 year of technical support
1 year of free updates
Royalty free deployment!